A MESSAGE FOR THE NEW OCCUPANT IN THE WHITE HOUSE
################################################
NO "PEACEFUL TRANSFER OF POWER" THIS TIME!
#################################################
[NY Times coverage of J21 Womens' March & Some Sister Marches]
Women's March Highlights as Huge Crowds Protest Trump: 'We're Not Going Away'
• Hundreds of thousands of women gathered in Washington on Saturday in a kind of counterinauguration after President Trump took office on Friday. A range of speakers and performers cutting across generational lines rallied near the Capitol before marchers made their way toward the White House.
• They were joined by crowds in cities across the country: In Chicago, the size of a rally so quickly outgrew early estimates that the march that was to follow was canceled for safety. In Manhattan, Fifth Avenue became a river of pink hats, while in downtown Los Angeles, even before the gathering crowd stretched itself out to march, it was more than a quarter mile deep on several streets.
• Begun as a Facebook post just after the election, the march is the start of what organizers hope could be a sustained campaign of protest in a polarized America, unifying demonstrators around issues like reproductive rights, immigration and civil rights. The movement has also encountered divisions.
• The Times had journalists covering the marches in Washington; New York; Boston; Atlanta; Denver; Los Angeles; Phoenix; St. Paul, Minn.; and Key West, Fla. Check out what they posted on Twitter and what readers asked of them live. See photos from marches around the world, too. (All times listed below are local.)
Here are some highlights from the rally in Washington:
(Or watch video of the whole event.)
• The singer and actress Janelle Monae highlighted the issue of police violence, leading the crowd in a chant of "Sandra Bland! Say her name!", a reference to the high-profile case where a black woman died in police custody in Texas after being arrested in 2015.
She then brought the microphone to each of the women in "Mothers of the Movement" who had joined her onstage. One by one, they joined in the chant, each inserting the name of her child who had died at the hands of the police.
• The actress Ashley Judd delivered an uninhibited speech that ended with her referencing how Mr. Trump bragged, in a 2005 recording, that he could use his celebrity status to force himself on women, even groping their private parts.
They "ain't for grabbing," she said. "They are for birthing new generations of filthy, vulgar, nasty, proud, Christian, Muslim, Buddhist, Sikh, you name it, for new generations of nasty women."
• Gloria Steinem, the feminist icon of the 1960s and 1970s, told the women in the group to get to know one another more personally.
"Make sure you introduce yourselves to each other and decide what we're going to do tomorrow, and tomorrow and tomorrow," she said. "We're never turning back!"
• "It's been a heart-rending time to be both a woman and an immigrant in this country," said the actress and activist America Ferrera."But the president is not America. His cabinet is not America. Congress is not America. We are America! And we are here to stay."
• After getting to the crowd to repeat a number to call Congress, the filmmaker Michael Moore urged people to run for office:
"This is not the time for shy people! Shy people, you have two hours to get over it."
• The actress Scarlett Johansson told a story about how she had visited a Planned Parenthood clinic in New York City after starting her acting career, and how a doctor there had treated her with compassion, "no judgment, no questions asked."
"I feel that in the face of this current political climate, it is vital that we all make it our mission to get really, really personal," she said.
"President Trump, I did not vote for you," she continued. "I want to be able to support you. But first I ask that you support me. Support my sister. Support my mother. Support my best friend and all of our girlfriends."
Otherwise, Ms. Johansson said, her own daughter, "may potentially not have the right to make choices for her body and her future that your daughter Ivanka has been privileged to have."
_____
What's up with those "pussyhats" I've heard about?
Many participants believed that Mr. Trump expressed misogynistic views during the presidential campaign, with remarks about Megyn Kelly, Carly Fiorina and Hillary Clinton. After the 2005 recording surfaced, several women came forward to accuse Mr. Trump of inappropriate sexual conduct. He dismissed the recording as "locker room banter" and assailed his accusers.
In a sly allusion to the crude remarks Mr. Trump made in the recording, many marchers, men and women alike, wore pink "pussyhats," complete with cat ears. The hats are described on pussyhatproject.com as a way to "make a unique collective visual statement which will help activists be better heard."
_____
Mr. Trump seemed to go out of his way to ignore the march
Just after 10 a.m., Mr. Trump and his family headed in the opposite direction of the march in Washington for the National Prayer Service, an inaugural tradition, at the National Cathedral. When he spoke at C.I.A. headquarters in Langley, Va., in the midafternoon, he told his audience that they were his "No. 1 stop" on his first full day in office, because they were "really special amazing people."
He also ruminated about how big the attendance had been at his inaugural speech, but he did not mention the large crowds of the women's march, where demonstrators were challenging his administration on a number of policies, or even that the march was taking place as he was speaking.
Elizabeth Warren: 'Me, I'm here to fight back'
In a speech in Boston, Ms. Warren, a Democratic senator from Massachusetts, said fundamental freedoms, like abortion rights and gay marriage, could be at stake under Mr. Trump's Supreme Court.
"We can whimper, we can whine or we can fight back," she said, as demonstrators in pink hats waved American flags. "Me, I'm here to fight back."
"We believe in science," Ms. Warren said, adding, "we know that climate change is real." A police officer patrolling the rally pumped his fists in agreement.
"We also believe that immigration makes this country a stronger country," Ms. Warren said. "We will not build a stupid wall and we will not tear millions of families apart."
"You know, I could do this all day," she added, to laughs and cheers. "But we gotta march."
Jess Bidgood
_____
John Lewis: 'Don't let anybody, anybody, turn you around'
Notable Signs: "Bend toward justice," evokeing the work of the Rev. Dr. Martin Luther King Jr.
"I'm ready to march again," said Mr. Lewis, a Democratic representative of Georgia, who chaired the Student Nonviolent Coordinating Committee in the 1960s. "I've come here to say to you: Don't let anybody, anybody, turn you around."
Citing the demonstrations across the country, Mr. Lewis urged marchers, who flowed onto the street running near the Center for Civil and Human Rights, to "use this unity to organize" future political efforts.
"The next election, we must get out and vote like we never, ever voted before," said Mr. Lewis, who was embroiled in a public clash with Mr. Trump recently.
Alan Blinder
_____
Everyone wants to know: How many people turned out?
The crowds appeared to be huge in most places, with marchers in Washington, New York City and Chicago seeming to stretch to the horizons. Police departments, at times, decline to provide crowd estimates, and crowds are notoriously hard to estimate, even with a good satellite image. But some official and unofficial estimates have given a sense of the turnout.
Attendance in New York City was more than 400,000, according to Mayor Bill de Blasio's office. The St. Paul police issued an official crowd count of 50,000 to 60,000 people. Attendance in Boston was 175,000, according to Nicole Caravella, a spokeswoman for Mayor Martin J. Walsh. The Atlanta Police Department estimated about 60,000 people attended a rally there. The Department of Public Safety in Phoenix estimated that some 20,000 marched, while in Key West, Fla., a town of 25,000, police said more than 2,000 people marched.
Organizers in Chicago estimated the crowd there at 250,000, the Chicago Tribune said. The Office of Emergency Management and Communications there said late on Saturday morning that Grant Park, the sprawling area where the rally-goers had gathered, had been filled to capacity. Though the official march was canceled, many still chose to walk through downtown holding protest signs.
Although the mayor's office in Washington and organizers declined to provide an estimate of the size of the flagship march, The Associated Press reported that the District of Columbia's homeland security director, Christopher Geldart, said it was safe to say the crowd at the march there was more than the 500,000 that organizers told city officials to expect.
"The crowd was so heavy, we didn't know which way to go," said Sabitha Pillai-Friedman, a psychotherapist who traveled to Washington from Philadelphia with her 17-year-old child, Sanji, and a friend, Pallavi Sreedhar. "We were squeezed, touching."
(March organizers offered a worldwide tally for the 673 "sister" marches, but when asked, could not provide an explanation of how the tally had been calculated.)
_____
Here's a rundown of scenes across the country. First up? Location: Washington. Time: 4:43 p.m.
Overheard Chant: "Yes we can" as people walked past the White House.
As the sun set downtown, protesters made their way to the White House and assembled in small groups in a park just across from the building's entrance. There in an area surrounded by temporary gates, people walked single file through one open entrance and one by one laid protest signs across gates set up for inauguration several hundred feet away from the White House.
While the temporary gates made walking up to the building impossible, people stood shaking their heads in frustration.
Fontella Garraway, a 50-year-old retired Army veteran who drove three and half hours from her home in Rocky Mount, N.C., sat on a bench staring at the White House with a pin that read "girl power."
"Even looking at the White House, it's like I hope he's looking out here at us," she said of Mr. Trump. "I hope it's penetrating to him that we mean business and we are serious."
Moments later she lay a handwritten sign that read "Love trumps hate; Hear our voice," on the a fence facing the White House.
"That's his inauguration gift," she said.
Yamiche Alcindor
_____
Location: Phoenix. Time: 1:01 p.m.
Notable Chant: "Tell me what America looks like! This is what America looks like."
Notable Sash: "65,855,610 votes for a woman," worn by Sara Powell, 61, of Phoenix, and nine of her friends.
Overheard: "My arms are tired. This is a good workout," said Rima Borgogni, 50, owner of a Pilates studio in Sedona, Ariz., after holding a sign throughout the mile-long march.
Ellen Ferreira and her friends felt as if they were fighting for some of the same things they used to. They are mostly retired and many of them are veterans of past protests, including the March on Washington for Jobs and Freedom in 1963, when Dr. Martin Luther King Jr. delivered his "I Have a Dream" speech.
"For our right to choose," said Piya Jacob, 70, a retired elementary school principal.
"For equality," said Mary Helsaple, 67, an artist.
"For healing justice," said Gretchen Vorbeck, 72, who runs a nonprofit that buys grocery gift cards for public schoolteachers.
Carol Decker, 70, a retired magazine publisher, jumped in and said, "We're mad as hell and we're not going to take it anymore."
Fernanda Santos
_____
Location: Washington. Time: 3:10 p.m.
Notable Chants: "We are the popular vote!"
Notable Shirt: A blue shirt with "Make Sexism Wrong Again" in the same style as "Make America Great Again" campaign shirts.
Just off 15th street, a block north of the parade's official end point, a large flatbed float with big "TRUMP" letters arched along the back parked itself in the middle of the street, drawing the ire of the thousands of marchers, who berated the float with chants of "Shame!" and "We are the popular vote!"
Police officers formed a barricade around the float with more than a half-dozen sidecar motorcycles. The six or so men and one woman on the float all took pictures of the protesters.
Yet some of those who chanted to chase the float away weren't surprised at its appearance at their march.
"I mean the inauguration was yesterday," said Chrissy Fiore, 39, of Washington, though she said it was "crazy that they made it down here and that now they're getting police escorted out."
Officers wouldn't let reporters approach those on the float or those driving it, but a magnet on the side said "Trump Unity Bridge."
As the float headed east to move away from the parade, Sheriff David A. Clarke Jr. of Milwaukee County, a Trump supporter, was seen walking along the sidewalk, taking in the scene but remaining silent. He did not respond to a reporter's question about his opinion of the march or protest.
Nick Corasaniti
_____
Location: New York City. Time: 1 p.m.
Chant: "Don't take away our ACA" and "Who's the boss? We are!"
Notable Signs: "Show us your taxes;" "you can't comb over sexism;" "1459 days;" and "build a bridge not a wall."
Overheard: One woman speaking at the rally told the story of having an abortion when she was young, making the minimum wage and could not support a child. She said she was fighting for equal pay "not just for white women."
At the rally in Mr. Trump's hometown near Trump World Tower, elected officials and celebrities assailed the president. Signs in the crowd mocked his bouffant hair and the size of his hands. The actress Whoopi Goldberg said it would be the first of many protests against the president.
"This is how people ended the war in Vietnam," Ms. Goldberg told the cheering crowd.
Grace Huezo, 20, a student at Hunter College, marched with her twin sister holding a "Nasty Woman" sign. She said she was there to defend women's rights after she was appalled by Mr. Trump's comments about grabbing women.
"We're here saying, no, people do not have permission to grab women without our permission," she said.
She said she was buoyed by the huge turnout and the camaraderie.
"I'm hopeful to see so many people that are not giving up and they're keeping their spirit," she said. "We're all just going to stick together over the next four years."
Emma G. Fitzsimmons
_____
Location: Denver. Time: 10:22 a.m.
Popular chant: "March! March! March!"
Notable signs: "I won't stop til it rains glass;" "You can't comb over misogyny" (accompanied by a drawing of Mr. Trump's hair); "Flunk the Electoral College."
Overheard: "I got to bring my high school punk rock out," said Emily Hastings, 39, a woman from Denver wearing a black "eat the rich" T-shirt and carrying a "Don't tread on women" sign. "Punk rock is all about resistance."
The march began in a park at the center of the city with a group singing "You've got a friend." Marchers blanketed the park nestled between the gold-domed state capitol and city hall, hauling strollers, wearing pink hats and often hugging and kissing.
Julie Turkewitz
_____
Location: St. Paul. Time: 10:55 a.m.
Notable Sign: "Make America Compassionate Again," and "I Love You"
Thousands of demonstrators gathered on a drizzly morning clad in rain boots, ponchos and pink knit "pussyhats" to march to the Capitol.
"What Trump has said is so based on exclusion and winning and being right versus taking care of everyone," said Hilary James, 27, a musician from Minneapolis. "Even if he doesn't listen to us, I feel it's important to not sit back."
Christina Capecchi
Location: Boston. Boston Globe Report:
Boston rally draws up to 175,000, officials say
By Globe Staff   January 21, 2017
This story was reported by Evan Allen, Eric Moskowitz, Laura Crimaldi, and Patricia Wen of the Globe staff, and Globe correspondent Nicole Fleming. The story was written by Evan Allen.
Tens of thousands of marchers wearing pink hats, waving homemade signs, and chanting "This is what democracy looks like!" hit the streets of Boston Saturday afternoon to protest the election of President Trump.
After more than an hour of speeches from politicians and activists who called out fierce notes of resistance, the enormous crowd began streaming from Boston Common onto Charles Street, heading to Clarendon Street, where they turned around. So many people marched that it took more than an hour and a half to file out of the Common. City officials estimated that 175,000 attended the demonstration.
"Look at this, it just goes on and on!" said 92-year-old Sidney Topol, who leaned on his cane and watched with wonder and pride, a small American flag poking out from beneath his tweed jacket. "I have seen sports parades, but I've never seen anything like this. It's unbelievable — peaceful, quiet, friendly, the camaraderie and love."
The marchers stretched blocks deep: young girls wearing homemade pageant banners ("Ms. Fierce," "Ms. Be Strong"), a man in a pink cowboy hat pushing a stroller, and a pregnant woman carrying a sign reading "Future Nasty Woman" pointing to her baby bump made their way up one side of the Commonwealth Mall and down the other. Ubiquitous hats with cat ears — called "pussy hats" in reference to the word Trump uttered unforgettably on a hot microphone — made the crowd look dotted with pink in aerial views.
The marchers stretched as far as the eye could see, 20 across, drumming and cheering and waving signs, and chanting "Women! United! Can never be defeated!"
The march began winding through the city following passionate entreaties to the crowd to fight — not just
on Saturday
, but for the next four years.
"We can whimper. We can whine. Or we can fight back!" yelled US Senator Elizabeth Warren, as marchers, many wearing pink hats and waving protest signs, screamed their approval. "We come here to stand shoulder to shoulder to make clear: We are here! We will not be silent! We will not play dead! We will fight for what we believe in!"
The Boston event was one of more than 600 marches being held nationwide and globally, on the day after Trump took office. A clear blue sky and unseasonably warm weather greeted Boston marchers, many of whom clutched homemade placards, including one that said: "Without immigrants Trump would have no wives." One woman had written on her shirt: "Now you've pissed off Grandma."
Speakers at the Boston kickoff included Warren, Mayor Martin J. Walsh of Boston, US Senator Edward J. Markey, and Attorney General Maura Healey. The crowd was so vast that many could hear only the applause.
Warren and other speakers who whipped up the crowd before the march conjured the core values of American democracy: respect for every human being, economic opportunity, and celebration of diversity. They called for raising the minimum wage, protecting unions, fighting climate change, shielding immigrant families from deportation, and making sure gay marriage is not undermined. Warren called on supporters to draw motivation from Trump's inauguration
Friday
, a moment she said was burned in her mind.
Some of the loudest cheers for Warren came as she vowed to protect immigrants from deportation.
"We also believe that immigration makes us a stronger country," she said. "We will not build a stupid wall and we will not tear millions of families apart."
Speakers called on marchers to resist the new administration's policies and to keep resisting long after the march ended, by running for office and lobbying their politicians.
Attorney General Maura Healey of Massachusetts said she had a message for Trump.
"The message from the people of Massachusetts is: We'll see you in court!" she shouted. If Trump tries to cancel health care, caters to the demands of big oil and moneyed interests, or defunds Planned Parenthood, she said, Massachusetts will fight back.
Walsh proclaimed that Boston will be the first city in the country to battle Washington.
"We will take this fight from Boston Common to the Mall in Washington to let the president know he is supposed to represent all of us," Walsh shouted, as the crowd roared back. "He doesn't have to make America great again! America is great; it's the greatest country in the world!"
By about
1 p.m.
, marchers began to hit the streets, though the crowd was so big that many had to wait before they could get out of the Common. The gathering was almost evenly split between men and women, and a diverse range of agendas was represented: climate change, antiracism, and Trump's ties to Russia. On Twitter, Boston police thanked protesters for remaining peaceful.
Those at the protest spoke of the fears and hopes that brought them to the Common.
Wounded in Vietnam, with shrapnel in his knee, Ronald Johnson can't stand for long stretches. The Dorchester resident parked himself on a bench beyond the Brewer Fountain, in his New England Patriots jacket, waving a "Refuse Fascism" sign and calling out words of encouragement to people streaming past.
"Long live the resistance, sister!" Johnson said, high-fiving a woman who passed by. He made his service known to the crowd, in a booming baritone: "Vietnam Veteran! . . . 82nd Airborne! . . . Charlie Company! . . . Proud to do it!"
Johnson, now 69 and retired from the Massachusetts Turnpike, enlisted out of Dorchester High School half a century ago. The new president makes his blood boil, he said.
"I fought for this country, got wounded for this country. Donald Trump never got wounded for this country. Someone had to give him a Purple Heart," said Johnson, referencing an episode from the campaign. "I don't think our new president cares two hoots about us."
He took in the sight of the swelling crowd with pride. "I love our country. I love these people," Johnson said.
Leah Cathers of Lowell, holding signs with her sister from New York, said she fears the country is stepping backward.
"I'm horrified by the fact that people have forgotten that these issues are about human beings, whether it's the Muslim population or refugees," she said.
Richard Widmer drove an hour and a half from Millers Falls with his 9-year-old son, Daniel, to attend the march.
"I thought as a father to a young man, this would be a good event to support all different kinds of people," said Widmer.
As protesters headed into Boston Saturday morning, many reported long lines and delays on commuter rail and subway lines, and the MBTA said it was adding extra trains to accommodate the crowds.
The newly sworn-in president — who has infuriated critics with disparaging remarks about women, calls to ban Muslims from entering the United States, and a pledge to build a wall along the border with Mexico — sounded a note of unity on Facebook
Friday
after taking the oath of office.
"Together we will make America strong again," he posted, drawing on his inaugural address. "We will make America wealthy again. We will make America proud again. We will make America safe again — and yes, together, we will make America great again!"
The Boston protesters were among millions who march in hundreds of locales across the nation and in cities around the world.
Demonstrations were also held around Massachusetts in Falmouth, Greenfield, Nantucket, Provincetown, Northampton, and Pittsfield.
####################################################
The last few days have seen a series of mass protests against President Trump and his incoming administration.  This should be the inauguration of persistent protests, not just against the Trump administration but also the system that has consistently put in place governments that represent big business interests and militarism while most people in the US face economic insecurity, and people around the world face US bombings.
President Obama broke George W. Bush's record for bombs deployed creating further hatred for the United States, insecurity and chaos. Trump is a symptom of a failed political system that does not represent the interests of the people or planet.
Trump protesters on Inauguration parade route on Pennsylvania Ave. at Navy Memorial Plaza. Source NY Times.
Protests were varied from Black Bloc to the massive Women's March; it included blockades of entrances to the inaugural parade, people singing at the entrances to the parade and people urging a wide range of progressive policies, all of which were brought together by a mass march and a Festival of Protest.
Protests Before, During and After the Inauguration
On Wednesday night, the street outside Michael Pence's home became the venue for a Queer Dance Party. The gathering was organized by Werk for Peace, which describes itself as a "grassroots movement using dance to promote peace," participants were chanting, "Daddy Pence, come dance."
On the day before the Inauguration, there was a protest and sit-in at the Federal Energy Regulatory Commission (FERC), the federal agency that approves carbon energy infrastructure and is funded by the oil and gas industry, rather than tax dollars.  FERC decided to close their "public" meeting to the public in fear of the protests. Beyond Extreme Energy is now re-defining the agency as "Trump's FERC."
Trump Mirror Protest January 19 at Democratic National Committee Hdqtrs
The day before the Inauguration there was also a protest outside of the Democratic National Committee highlighting the reality that the Democrat's neoliberal and militarist policies created the political environment that allowed Trump to flourish. The protest featured a massive BETRAYAL sign in front of the DNC as well as mirrors urging the Democrats to reflect upon what they created. The mirrors included a picture of Trump with text saying that the Democrat's wealth-divide, dirty energy policy, ObamaCare and more gave us Trump.
The night before the Inauguration, more than a thousand people protested outside of the 'DeploraBall', a celebration by white supremacist supporters of Donald Trump. Protesters had conflicts with attendees as they entered the DeploraBall; and had conflicts with the police as smoke bombs were used by protesters and tear gas was used by the police.  Protesters chanted, carried signs against racism and fascism and lit fires in the street.
Elephant at DeploraBall by Photo by Judy Kurtz for the Hill.
Throughout the day there was a concert and rally held to stop nuclear weapons at Franklin Square Park. The rally organized by the Poor People's Economic and Human Rights Campaign comes after Obama has been escalating the nuclear arms race with his missile shield deployment on the Europe-Russia border and his 30 year plan to update the US nuclear weapons arsenal; and when Trump escalated the nuclear weapons race with a tweet calling for more nuclear weapons. The morning of the Inauguration, Black Bloc protesters marched through the streets of DC. Some broke windows of stores, turned over newspaper dispensers and destroyed a limousine. Police responded aggressively with tear gas, pepper spray, flash-bang grenades and rubber bullets.
Thousands of protesters were active at the many inaugural parade entrances, often blocking the entrances. Different issues were highlighted, among them feminism, Black Lives Matter, white support for racial justice, support for trade justice that puts people and planet before profits, immigrant rights, climate justice and more. Each checkpoint used different tactics to either block the entrance or put out messages on key issues.
A marijuana legalization group gave out 8,000 joints for the Trump inaugural. The event, #Trump420 began late in the morning, with many activists lighting up joints 4 minutes and 20 seconds into Trump's inauguration speech. There were no arrests for the inaugural group smoke session and participants made clear they hoped President Trump would see legal marijuana as a rapidly growing industry. Forbes reported last week the Green Rush will be bigger than the dot-com boom of the 90s.
The inaugural parade may have had more protesters than Trump supporters. Along the entire parade route protesters could be seen. Just one protest area organized by the ANSWER Coalition, solidly filled two blocks with Trump protesters.  The Secret Service moved to prevent the media from covering the ANSWER protest by barring the media from attending their event.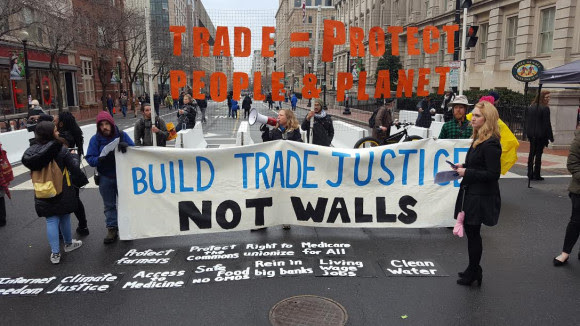 Trump upset many of his supporters by starting the parade late after a very long lunch, leaving them in the cold and in the dark by the time the parade ended. At the lunch, Trump expressed admiration for Bill and Hillary Clinton and led a standing ovation for them, highlighting the bi-partisan nature of the two parties that represent Wall Street and war. Trump had wanted a very different kind of parade than usual – more like North Korea or the old Soviet Union – including tanks and missile launchers in the inaugural parade. The military denied the request. They did approve five military flyovers, not typically part of inaugural parades, but they were canceled due to poor weather conditions
Climate protesters blocking the gate at 3rd and Indiana Avenue NW. (Justin Jouvenal for The Washington Post)
Protesters were brought together at noon by a Festival of Resistance that began at Columbus Circle outside of Union Station and ended at McPherson Square for an afternoon gathering. The colorful march featured people on stilts wearing costumes, a massive human float saying "we are all in this together", the racism elephant and well more than 10,000 people. During the afternoon, I-395 was closed by protesters and people continued to protest throughout the city, often generating police conflicts.
After the inauguration, many of the people attending parties to celebrate the Trump presidency found themselves delayed by conflicts between protesters and police. Reportedly, people dressed in black tie and high heels were getting out of their limos and walking to events.
Women's March on DC January 21, 2017
The first day of the Trump administration, one of the largest marches in recent history was held. The Women's March drew hundreds of thousands of people, with Metro reporting 100,000 more riders for the Women's March than on Inauguration Day. More people showed up for the women's march than for the Trump inauguration. The march had a permit for 200,000 people but officials looking at hotel rooms and buses coming to DC expected more and march organizers said that as many as half a million people had turned out for the D.C. event.
Both the DisruptJ20 protests on Inauguration Day and the Women's March on Washington were nationwide and global. J20 protests were held in many US cities, among them New York, Atlanta and Chicago. Tens of thousands of people participated. The Women's March reported that there were more than 600 sister events in over 60 countries, with support streaming in from all seven continents.
Donald Trump was welcomed to the presidency by large protests around the world. As John Zangas of the DC Media Group, which covers the movement in Washington, DC, described the charade of the "peaceful transfer of power" writing:
Today's "peaceful" change of Democratic government was a fairytale in a way, a myth, and a story of worsening division between people. In some ways it was reminiscent of other cities like Cairo, and Ankara, where change of governments comes with police lines, military deployed in the streets, and unruly citizenry.
There was plenty of that here today. While the National Guard stayed in the background-the fact that they were deployed during a peaceful change of government signifies it really wasn't truly a peaceful transfer of power.
Where Does Persistent Protest Lead?
Protest is a critical ingredient for people power to succeed but it is only one ingredient. Protests can actually strengthen those in power by building sympathy for them or justifying the use of force if they are not used in a strategic way to build a mass movement that will impact the power structure, accomplish a transformation of policy or build an alternative system.
Education is a critical element in building a powerful movement. Misinformation is a tactic used by the oligarchs that we must carefully navigate and expose:
"We are transferring power from Washington, D.C. and giving it back to you, the American People."
"For too long, a small group in our nation's Capital has reaped the rewards of government while the people have borne the cost."
"Washington flourished – but the people did not share in its wealth."
"Politicians prospered – but the jobs left, and the factories closed."
"The establishment protected itself, but not the citizens of our country."
"Their victories have not been your victories; their triumphs have not been your triumphs; and while they celebrated in our nation's Capital, there was little to celebrate for struggling families all across our land."
These words could have been said by a progressive populist, but they are Donald Trump's words. Of course, when we look at his cabinet of billionaires and generals, and his policy proposals from the extremist Heritage Foundation, we do not see an administration giving back power to the people. Within moments of becoming president mention of climate change, civil rights and LGBTQ issues were taken off the White House website, but Melania Trump's bio contains a sales pitch for her QVC line of jewelry.
Trump's rhetoric is reaching millions of people in the United States who are struggling with ongoing economic insecurity. People are sick of the corruption of elected officials in Washington, DC by big money corporate interests, especially from Wall Street, just as President Obama's call for "change you can believe in" and Bill Clinton's "a man from Hope" all played on the same theme: the United States needs to transform from a government of elites to government for the people. Trump is singing the same lying song and putting in place the bricks of betrayal of his voters.
While Trump, and Obama before him, can rhetorically claim to be giving power to the people, the truth is the only path to popular power is for us to build power and then to take power. Let us continue to take action to insure that this inauguration of protests is another key step toward that goal.It is not enough for us to protest Trump, we must protest the system that oppresses all of us, and build power – first, the power to change the political dialogue and second, the power to put in place the transformation we need
################################################
Live Coverage: World Erupts in Revulsion as Trump Becomes 45th US President
Live Coverage: World Erupts in Revulsion as Trump Becomes 45th US President
Follow live coverage of official events—as well as protest and dissent—as Inauguration Day unfolds
Amid growing protests and vows of resistance to his right-wing agenda and regressive vitriol, Donald J. Trump was sworn into office on Friday as the 45th President of the United States.
In anticipation of a day that will likely embody the #NotNormal nature of his campaign and transition period, Commons Dreams will be providing live coverage of events in Washington, D.C. as well as updates and reactions from around the nation and the world as Trump's inauguration unfolds. Check back for updates.
Live Coverage
---
Trump's Hour One "Punch in the Gut to Middle Class"
One of President Donald Trump's first orders of business was to make homeownership more expensive for first-time and low-to-middle-income borrowers. About an hour after he was sworn in, the Department of Housing and Urban Development announced it was suspending indefinitely a pending cut to mortgage insurance premiums. The move was decried as "a windfall for Wall Street" that contradicts Trump's populist rhetoric. Read Common Dreams' coverage here.
---
Day One Constitutional Violation
The government watchdog group Citizens for Ethics and Responsibility in Washington (CREW) says Trump is already in violation of the Constitution. CREW filed a complaint Friday noting that the lease on Trump International Hotel, which is in the federally-owned Old Post Office building in Washington, D.C., prohibits elected officials from receiving "any share or part of [the Lease], or to any benefit that may arise therefrom."
Meanwhile, during the inaugural parade on Friday, the new President reportedly only walked for the stretch of the route that passed the controversial Trump International.
---
Climate Scrubbed from White House Website
The new administration's official White House web page went up shortly after Trump was sworn in, with one aspect of the overhaul gaining lots of media attention on Friday—the absence of climate change. While the Obama administration's White House page listed climate as a top issue, the Trump site lists America First Energy Plan which calls for no climate actions but rather a call to embrace the fracking revolution and so-called clean coal.
350.org executive director May Boeve said, "This is not a plan for a brighter future—it's a direct obstacle to a livable future, and we will do everything we can to resist it."
The new WhiteHouse.gov site also has several other glaring omissions—including the LGBT rights page, the official healthcare page and civil rights page.
---
Public School Teachers Strike Back
During his inaugural address, President Donald Trump described the nation's public schools as "an education system flush with cash but which leaves our young and beautiful students deprived of all knowledge."
In response, the 59,000-member Badass Teachers Association wrote on its Facebook page:
This is what our new President thinks of our public schools.

That teachers and schools are rolling in dough, work in spacious facilities, and want for nothing—yet we are so bad at our jobs that our students know nothing.

Because I'm trying to remain professional, I'll refrain from saying the words I want to say.

But I will say that these comments are ignorant, hurtful, and divisive.

He had a chance to use this address to unite a fractured nation, and appeal to our better selves, and chose to insult and disparage a profession of which he knows nothing.

It's not our schools that are flush with cash yet know nothing.

It's you, Mr. President.

Keep talking, Donald.
---
Women Not Having Trump's Cabinet
Hundreds of women—Black, Latino, climate justice activists, veterans, and members of the Dakota Access Pipeline (DAPL) resistance—rallied outside of key federal offices on Friday morning to protest the threat to homes and environment posed by the incoming Trump administration.
"The appointments of Rick Perry, Steve Mnuchin, and Ben Carson make clear the Trump administration's intention to ramp up the exploitation of land for private profit, wreaking devastation for the climate, for our water, and for our homes," read the statement from Grassroots Global Justice Alliance, which organized the #ItTakesRoots actions.
"Mnuchin, Carson, and Trump together will threaten the homes of both homeowners and renters," the statement continued. "Mnuchin is known as the 'foreclosure king' for the over 36,000 foreclosures he instigated during the financial crisis. With half of all renters facing unaffordable rents and evictions at all-time highs, Carson has stated that he plans to turn public housing over to private interests, which will only worsen the displacement and affordable housing crises faced by communities around the country. "
At the same time, the group notes, Energy secretary nominee Rick Perry "until a week ago…was on the Board of the company driving the Dakota Access Pipeline, which threatened the water of 17 million people."
---
The Streets of Washington, D.C.
Roving protests, mass arrests, and civil disobedience appear to be overtaking the streets of the nation's capital in the hours surrounding the inauguration ceremony.
Demonstrations aiming to disrupt the inauguration of Donald Trump that have been gaining momentum since early Friday morning have shut down streets, and barricaded security checkpoints, under the umbrella of the anti-inaugural coalition "Disrupt J20."
---
An Authoritarian Takes Office
Donald Trump on Friday began his presidency with a speech laden with promises of bringing back "our jobs", "our borders", and "our wealth," along with vows to tackle what he described as "American carnage," stirring fears among the president's opponents who called attention to a campaign built on xenophobia, racism, and Islamophobia—and a cabinet that belies his promise to "drain the swamp" of special interests.
Read Common Dreams' coverage here.
---
Fear of Trump Spreads Worldwide
Protests are swelling around the world as people unite in opposition to Trump's right-wing agenda.
Meanwhile, activists calling for an end to "Trump's Arms Race" rallied outside the U.S. embassy in London on Friday.
"Donald Trump has sparked fear across the world with a series of provocative statements," said Kate Hudson, general secretary of the Coalition for Nuclear Disarmament in a press statemetn ahead of the demonstration.
"He has called for the expansion of the U.S. nuclear capability, the tearing up of the Iran nuclear deal, and he appeared to welcome a possible arms race in Asia," she continued. "These are not the worlds of a president looking to build peace in the world. It's absolutely essential that civil society responds."
"Our government," Hudson said, "should respond to this emerging threat by supporting negotiations at the United Nations in 2017 for a global nuclear ban. Britain needs to lead through example, not blind support for the policy whims of the U.S. president."
Watch a video of the demonstration below:
---
Shutdown San Francisco
In San Francisco, hours before the oath of office, anti-Trump protesters linked arms across commuter rail tracks and blocked trains from getting by.
---
Terrible Turnout for Trump 
Given Trump's fixation on winning ratings and "bigly" crowds at his events, the overhead visual at Friday's inauguration was sure to be an embarrassment for the newly sworn-in president:
Compared to Obama's first Inaugural:
---
Protesting at the Gates
While America's eyes were glued to the inauguration ceremony, protesters have been flooding the streets of Washington, D.C., focusing actions at the various security checkpoints around the perimeter of the event.
Documenting some of the demonstrations from the street is Intercept journalist Jeremy Scahill, who streamed the below video shortly before Donald Trump was declared President of the United States.
https://www.facebook.com/plugins/video.php?href=https%3A%2F%2Fwww.facebook.com%2Ftheinterceptflm%2Fvideos%2F1219749688074082%2F&show_text=0&width=560
---
Sanders' Words of Wisdom
Sen. Bernie Sanders offered this message of encouragement and vision early Friday for those Americans who were mourning the presidential inauguration of Donald Trump.
"Today is going to be a tough day for millions of Americans, including myself," he said in a video shared on his Twitter feed. But our response has got to be not to throw up our hands in despair, not to give up, but to fight back as effectively and vigorously as we can.
"And our job is to keep our eyes on the prize," he continued. "And the prize is that we will continue fighting for a government  that represents all of us and not just the one percent. And we are going to go forward in the fight for economic, social, environmental, and racial justice. That's who we are. That's what we are going to do. We are not giving up."
---
Democracy Now! is streaming a special broadcast until 3PM on Inauguration Day, offering a panel of guests including author, activist and assistant professor at the Center for African American Studies at Princeton University Keeanga-Yamahtta Taylor; author and activist Naomi Klein, and investigative journalist Allan Nairn. Click here to watch their ongoing analysis.
---
The Official 58th Presidential Inauguration Live Stream:
The Young Turks —Live Stream:
---
This work is licensed under a Creative Commons Attribution-Share Alike 3.0 License
####################
DisruptJ20: Call for a bold mobilization against the inauguration of Donald Trump on January 20, 2017
On Friday, January 20, 2017, Donald Trump will be inaugurated as President of the United States.
We call on all people of good conscience to join in disrupting the ceremonies. If Trump is to be inaugurated at all, let it happen behind closed doors, showing the true face of the security state Trump will preside over. It must be made clear to the whole world that the vast majority of people in the United States do not support his presidency or consent to his rule.
Trump stands for tyranny, greed, and misogyny. He is the champion of neo-nazis and white Nationalists, of the police who kill the Black, Brown and poor on a daily basis, of racist border agents and sadistic prison guards, of the FBI and NSA who tap your phone and read your email.
He is the harbinger of even more climate catastrophe, deportation, discrimination, and endless war. He continues to deny the existence of climate change, in spite of all the evidence, putting the future of the whole human race at stake.The KKK, Vladimir Putin, Golden Dawn, and the Islamic State all cheered his victory. If we let his inauguration go unchallenged, we are opening the door to the future they envision.
We are organizing a week of trainings, actions, and events leading up to the mobilization on January 20th in Washington, DC over the oncoming Trump Regime. Below you will find details about these events as well as convergence space for the week starting with January 14th.
MONDAY
9:30am – Action Camp opens, Breakfast served
(see website for workshop schedule)
12pm – Lunch (St Stephens – 1525 Newton St NW)
5pm-10pm – Ted Led, Max Levine Ensemble, etc concert (St Stephens Auditorium)
TUESDAY
9am – Convergence Space Opens, Breakfast served (St Stephens)
12pm – Lunch (St Stephens)
3pm – Know Your Rights Training (St Stephens Auditorium)
5pm – Convergence Space opens – All Souls (1500 Harvard St NW)
6pm – Dinner (All Souls)
6:30pm – Action Spokes (All Souls)
WEDNESDAY
9am – Convergence Space Opens, Breakfast served (St Stephens)
11am – Orientation (St Stephens)
12pm – Climate Convergence (RSVP Here)
2pm – Orientation (St Stephens)
4pm – Orientation & Know Your Rights Training (St Stephens)
5pm – Convergence Space opens – All Souls, Dinner served
THURSDAY
9am – Convergence Space Opens, Breakfast served (St Stephens)
9:30am-12pm – FINAL Nonviolent Direct Action Training (St Stephens)
12pm-5pm – Orientations @ St Stephens
1pm-4pm – FINAL Action Spokescouncil (St Stephens)
4:30pm-5:30pm – FINAL Legal & De-escalation Training (St Stephens)
4pm-6:30pm – Direct Action Office Hours (St Stephens)
5pm – Convergence Space opens – All Souls, Dinner served
5pm-8pm – Orientation Trainings (All Souls)
January 20

Early Morning Blockade Actions:
########################
Nearly 200 Vigil on Amherst Town Common to Defend Health Care & Social Security
Sunday, January 15, 2017 – As the looming threat of regressive far-right governance in Washington approaches, close to 200 WMass residents took part in a Vigil to Defend Social Security & Healthcare today, answering a call made by Sen. Bernie Sanders on the floor of the U.S. Senate for nationwide events in defense of the Affordable Care Act and Social Security. 70 such actions took place today across the U.S. Sanders asked Democratic members of Congress, trade unions, senior groups, health care activists and all those who believe in economic and social justice to organize a day of action to tell Republicans loudly and clearly: You are not going to get away with throwing nearly 30 million people off of health insurance, making massive cuts to Medicaid, Social Security and de-funding Planned Parenthood.
At a time when the United States remains the only major country on Earth not to guarantee health care to all as a right, the Republicans want to make matters worse. At the same time, in the midst of a grotesque and growing level of income and wealth inequality, they want obscene tax breaks for the top one-tenth of 1 percent.
The vigil in Amherst, MA joined the historic weekly ongoing Sunday Amherst Vigil established some 38 years ago. Back then the threats to our nation were embodied by the Nixon Administration and the war in Southeast Asia. Today, the illegitimate Trump Administration is to be inaugurated in less than a week and it promises to be an even greater threat to democracy and freedom than any previous administration. Vigils and actions such as today's will be taking place regularly.
###############
#####################
Soon after his inauguration next month, President-elect Donald Trump will nominate someone to the Supreme Court, which has been hamstrung by a vacancy since the death of Justice Antonin Scalia in February. There will be public debates about the nominee's credentials, past record, judicial philosophy and temperament. There will be Senate hearings and a vote.
No matter how it plays out, Americans must remember one thing above all: The person who gets confirmed will sit in a stolen seat.
It was stolen from Barack Obama, a twice-elected president who fulfilled his constitutional duty more than nine months ago by nominating Merrick Garland, a highly qualified and widely respected federal appellate judge.
It was stolen by top Senate Republicans, who broke with longstanding tradition and refused to consider any nominee Mr. Obama might send them, because they wanted to preserve the court's conservative majority. The main perpetrators of the theft were Mitch McConnell, the majority leader, and Charles Grassley, chairman of the Judiciary Committee. But virtually all Republican senators were accomplices; only two supported holding hearings.
The Republican party line — that it was an election year, so the American people should have a "voice" in the selection of the next justice — was a patent lie. The people spoke when they re-elected Mr. Obama in 2012, entrusting him to choose new members for the court. And the Senate has had no problem considering, and usually confirming, election-year nominees in the past.
Of course, Supreme Court appointments have always been political, and the court's ideological center has shifted back and forth over time. But the Senate has given nominees full consideration and a vote even when the party in power has opposed a president's choice. That is, until this year, when Republicans claimed that though the Constitution calls for the Senate's "advice and consent," senators aren't obligated to do anything. This is a bad-faith reading of that clause, even if there is no clear way to force a vote. It certainly obliterates a well-established political norm that makes a functioning judicial branch possible. As Paul Krugman wrote in his column on Monday, institutions are not magically self-sustaining, and they "don't protect against tyranny when powerful people start defying political norms."
This particular norm is of paramount importance because the court's institutional legitimacy depends on its perceived separation from the elected branches — a fragile concept in the best of times. By tying the latest appointment directly to the outcome of the election, Mr. McConnell and his allies took a torch to that idea — an outrageous gambit that, to nearly everyone's shock, has paid off. But while Republicans may be celebrating now, the damage they have inflicted on the confirmation process, and on the court as an institution, may be irreversible.
The slope is both slippery and steep. If Republicans could justify an election-year blockade, what's to stop Democrats in the future from doing the same? For that matter, why should the party controlling the Senate ever allow a president of the opposing party to choose a justice? Indeed, in the weeks before the election, Senate Republicans were threatening, with the encouragement of leading conservative thinkers, never to confirm anyone to fill the vacancy if Hillary Clinton won.
Can anything be done to repair the harm? One step — as obvious as it is unlikely — would be for Mr. Trump to renominate Mr. Garland. Conservatives will scoff, but they know he is as qualified for the job as anyone in the country. When Mr. Garland was floated as a possible choice for the Supreme Court in 2010, Orrin Hatch, the senior Republican senator from Utah, called him a "consensus nominee" and said there was "no question" that he would be confirmed with bipartisan support. That's partly why Mr. Obama nominated him this time, and also why Mr. McConnell denied him a hearing — he knew he couldn't prevent a Senate vote once Americans saw an eminently qualified and reasonable jurist testify on live TV.
At the very least, Mr. Trump could follow President Obama's example and pick a centrist — someone who commands wide respect and operates within the bounds of mainstream legal thought. That would be an appropriate gesture from a man who lost the popular vote by more than 2.8 million votes and will enter office with the lowest approval ratings in recent history.
The shameful, infuriating actions of the Senate Republicans won't be ignored in the history books. In a desperate effort to keep a conservative majority on the court, they rejected their own professed values of preserving American institutions. There's little hope that they will come to their senses now, but they and Mr. Trump have the power, and the obligation, to fix the mess they created.
##################
##############
REUTERS/Lucy Nicholson
We fact-checked what Trump and Clinton said about energy at the debate
Donald Trump told a few lies about energy during the debate Sunday night, while Hillary Clinton reiterated her warm feelings for natural gas.
In the last substantive question of the town hall–style debate, an audience member asked how the candidates' energy policies would "meet our energy needs while at the same time remaining environmentally friendly and minimizing job loss for fossil power plant workers?"
Trump
Trump went first, cramming an impressive number of false and nonsensical statements into his two-minute answer. (On the upside, he demonstrated that he now knows what EPA stands for, correctly referring to it as the Environmental Protection Agency instead of "Department of Environmental.") Here are the highlights:
• Trump: "[E]nergy is under siege by the Obama administration. … We are killing, absolutely killing, our energy business in this country."
In fact: Total U.S. energy production has increased for the last six years in a row. The oil and gas sector has been booming during the Obama presidency, as have the solar and wind industries. Coal companies have been struggling — but that is largely not the fault of President Obama, just as the oil boom is largely not something he can take credit for.
• Trump: "I will bring our energy companies back. … They will make money. They will pay off our national debt. They will pay off our tremendous budget deficits."
In fact: There is no remotely credible economic analysis to suggest that Trump's proposals for expanded domestic fossil fuel extraction would generate enough additional tax revenue to close the budget deficit, much less pay off the existing national debt. It's particularly implausible when you consider Trump's massive tax-cut plans that would make both the deficit and debt considerably larger.
• Trump: "I'm all for alternative forms of energy, including wind, including solar, etc."
In fact: Trump's energy plan offers nothing to increase solar or wind energy production, but instead focuses on boosting fossil fuels.
• Trump: "There is a thing called clean coal."
In fact: The hope that coal plants' carbon emissions can be drastically reduced — either through technology that captures and sequesters the emissions or that converts coal to synthetic gas — burns eternal for the coal industry's cheerleaders. But no one has actually significantly cut emissions at an economically viable coal plant. The promises of "clean coal" projects have not been fulfilled.
• Trump: "Foreign companies are now coming in and buying so many of our different plants, and then rejiggering the plant so they can take care of their oil."
In fact: What is Trump trying to say with this gibberish? We have no idea. [UPDATE: E&E News seems to have figured out what Trump was talking about. When he said "plants," he meant refineries, and he was repeating a gripe made prominently by his energy advisor Harold Hamm, an oil and gas magnate. "Hamm complained that the foreign companies converted their U.S. refineries to process 'heavy, sour crude,'" E&E reports. "That excludes the 'light, sweet' crude from the Bakken shale, where Hamm's company is the largest leaseholder."]
Clinton
Clinton's answer was, as one would expect, more cautious and tempered. She said, among other things, that she supports "moving toward more clean, renewable energy as quickly as we can, because I think we can be the 21st century clean-energy superpower and create millions of new jobs and businesses." And her climate and energy plan would indeed promote renewable power.
But she also made some dubious statements herself:
• Clinton: "We are … producing a lot of natural gas, which serves as a bridge to more renewable fuels, and I think that's an important transition."
In fact: This comment surely set many climate activists' teeth on edge — and not for the first time, as Clinton has been saying similar things for years. Many activists strongly disagree that natural gas should be part of a plan to shift to renewables and fight climate change. Multiple studies have indicated that natural gas is no better for the climate than coal when you consider the high rates of methane leakage in natural gas production and transport. 350.org, the aggressive anti–fossil fuel group, swiftly issued a statement criticizing that comment while praising the rest of Clinton's response.
• Clinton: "[W]e are now, for the first time ever, energy independent. We are not dependent upon the Middle East. But the Middle East still controls a lot of the prices."
In fact: Clinton was pandering to voter ignorance with her claim that the U.S. has become "energy independent." Though U.S. oil production is up and oil imports are down, the country is still a net importer of crude oil and petroleum products. And as Clinton herself acknowledged, global oil prices are set by global supply and demand, so we will not be disentangled from the Middle East until we stop using so much oil, regardless of where it is drilled.
Climate?
Clinton, unlike Trump, did say that her energy plan includes "fighting climate change, because I think that's a serious problem." That was the entirety of either candidate's nod to the "environmentally friendly" portion of the question.
Political discussion of energy still revolves mainly around how to produce more of it rather than how to produce it without burning up the planet.
#####################################
Trump's immigration policies follow a racist American tradition
Donald Trump, by proposing his immigration policies of excluding Muslims and building a high wall on our border with Mexico, while draconian as well as unconstitutional, falls squarely within the general outlines of how U.S. government leaders have traditionally treated and represented the "other."
Though politicians and members of their constituencies argue immigration policy from seemingly infinite perspectives and sides, one point stands clear and definite: decisions as to who can enter this country and who can eventually gain citizenship status generally depends of issues of "race," for U.S. immigration systems reflect and serve as the country's official "racial" policies.
Looking back on the historical emergence of the concept of "race," critical race theorists remind us that this concept arose concurrently with the advent of European exploration as a justification for conquest and domination of the globe beginning in the 15th century of the Common Era (CE) and reaching its apex in the early 20th century CE.
Geneticists tell us that there is often more variability within a given so-called "race" than between "races," and that there are no essential genetic markers linked specifically to "race." They assert, therefore, that "race" is an historical, "scientific," biological myth, an idea, and that any socially-conceived physical "racial" markers are fictional and are not concordant with what is beyond or below the surface of the body. 
Though biologists and social scientists have proven unequivocally that the concept of "race" is socially constructed (produced, manufactured), however, this does not negate the very real consequences people face living in societies that maintain racist policies and practices on the individual, interpersonal, institutional, and larger societal levels.
Official Immigration and Naturalization Policy
In the "American" colonies, 1705 Virginia statute, the "Act Concerning Servants and Slaves," read:
"[N]o negroes, mulattos or Indians, Jew, Moor, Mahometan [Muslims], or other infidel, or such as are declared slaves by this act, shall, notwithstanding, purchase any christian (sic) white servant…."
In 1790, the newly constituted United States Congress passed the Naturalization Act, which excluded all nonwhites from citizenship, including Asians, enslaved Africans, and Native Americans, the later whom they defined in oxymoronic terms as "domestic foreigners," even though they had inhabited this land for an estimated 35,000 years. The Congress did not grant Native Americans rights of citizenship until 1924 with the passage of the Indian Citizenship Act, though Asians continued to be denied naturalized citizenship status.
Congress passed the first law specifically restricting or excluding immigrants on the basis of "race" and nationality in 1882. In their attempts to eliminate entry of Chinese (and other Asian) workers who often competed for jobs with U.S. citizens, especially in the western United States, Congress passed the Chinese Exclusion Act to restrict their entry into the U.S. for a 10-year period, while denying citizenship to Chinese people already on these shores.
The Act also made it illegal for Chinese people to marry white or black U.S.-Americans. The Immigration Act of 1917 further prohibited immigration from Asian countries, in the terms of the law, the "barred zone," including parts of China, India, Siam, Burma, Asiatic Russia, the Polynesian Islands, and parts of Afghanistan.
The so-called "Gentleman's Agreement" between the U.S. and the Emperor of Japan of 1907, in an attempt to reduce tensions between the two countries, passed expressly to decrease immigration of Japanese workers into the U.S.
 Continue here:
&&&&&&&&&&&&&&&&&&&&&&&&&&&&&&&&&&&&&&&&&&&&&&&&&&&&
Rachel Maddow Busts Donald Trump With Proof That Rally Violence Is Deliberate
Rachel Maddow delivered a wake-up call to the American people and the media by proving that Donald Trump is deliberately trying to provoke and inspire violence at his campaign rallies.
Rachel Maddow delivered a wake-up call to the American people and the media by proving that Donald Trump is deliberately trying to provoke and inspire violence at his campaign rallies.
Video:
Maddow pointed out that Trump's rallies have included racially charged violence for months and said, "There have been instances in the past where he has at least encouraged or praised the idea of violent actions by his supporters. When he's spoken wistfully about how great it would be to beat people up at his rallies or he has told people that he would pay their legal fees if they would beat up a protester on his behalf. He has done that in the past. But this sort of blood lust. Right? This half tongue in cheek, mostly serious call for a tougher America where there are more beatings and where anti-Trump protesters fear for their lives."
Rachel Maddow date stamped a series of Trump comments to show that the escalation of the violence at his rallies is deliberate.
After the clips were shown, Maddow said, "Anybody who tells you that there is no connection between the behavior of the mob at these events and the behavior of the behavior of the man at the podium leading the mob at these events is not actually watching what he has been saying from the podium."
Maddow concluded by saying, "American president politics didn't get this way on its own. This is the work of an American presidential candidate who deliberately made this happen, and the Republican Party is about to nominate him for president."
Donald Trump responded to the events in Chicago by blaming the protesters for the violence. Trump is using the events in Chicago as fuel for his campaign of racial division.
Rachel Maddow brought up an excellent point. If the violence is about anger at President Obama as Ted Cruz claimed, or is an expression of voter rage, why is it only happening at Trump campaign events? Why doesn't this kind of behavior occur at Marco Rubio events, or Ted Cruz rallies or John Kasich campaign stops? It isn't because as Trump claims; there are no supporters at the events of the other candidates.
Despite what Trump is selling to the media, the majority remain opposed to Donald Trump. The answer to why the violence is happening at Trump events and nowhere else is that the candidate is creating the climate for violence and encouraging confrontation at his rallies. Donald Trump is engaging in the vilest form of politics imaginable and is the civic duty of the Republican Party to shut him down.
If Republicans won't stop Trump, it is up to the members of communities all across this nation to treat a Trump rally like they would a KKK rally. The vast majority of Americans don't want the KKK in their town or city. People come out and counter protest when racists rally in their neighborhoods. It is time for a national effort to stop Donald Trump. It is time for activists to pressure the cable news networks who give Trump unlimited free media. It is time for civic leaders to let the politicians know that Trump and his politics of violence and hate aren't welcome in their towns.
Rachel Maddow has proven that Trump is deliberately provoking violence. The American people must do what the Republican Party won't and stop Donald Trump.
##########